Our beliefs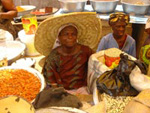 The Robin Hood Institute works in partnership with civil society. We offer support in fields such as education, solidarity and the development of the local economy.
The values that motivate our actions and support each field of intervention are :
Human dignity
Human development in accordance with traditions and the environment
Individual or joint liability.
The Institute invests in a project. The term "invests" implies that providing funds is an investment expected to be beneficial on the social level.