About us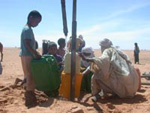 The Robin Hood Institute is an independent charity which considers human beings to be their main preoccupation. Its aim is to fund human size projects in the form of donations, in developing countries especially in Africa, in order to meet local needs to improve the standard of living in accordance with local cultures.
The Legal Structure
As a Swiss legal entity exclusively serving the public interest, it is supervised by the Swiss Confederation supervisory authorities, which is a branch of the Home Office. The foundation is annually audited by an independent and qualified body which ensures that funds are allocated in accordance with statutory requirements and that the foundation is run in accordance with legal obligations.
The Institute means to support three particular fields of activities :
- Education
- Health
- Ad hoc Support, especially for entrepreneurial initiatives.
The work of the Institute consists in starting up projects (a "boost") which contribute to developing the skills and/or the self-sufficiency of the beneficiaries.