Selection criteria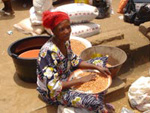 Relevance : that is to say the project should meet real needs, which have been identified by the local communities and are sustainable by the latter. Innovative projects will be favoured.
Quality : the success of the project will depend on key factors such as the professionalism of the person in charge locally or of the local teams, the precision of the description of the project and the reliability of the financing plan.
Durability : the donations from the Institute will fall within the scope of durable projects. These projects aim at being autonomous and the financing plans of the Institute will be built up with this aim in view. (investment over 5 years).
The leverage effect : projects having a multiplier effect with local communities enabling methods or techniques to be used widely will be favoured.